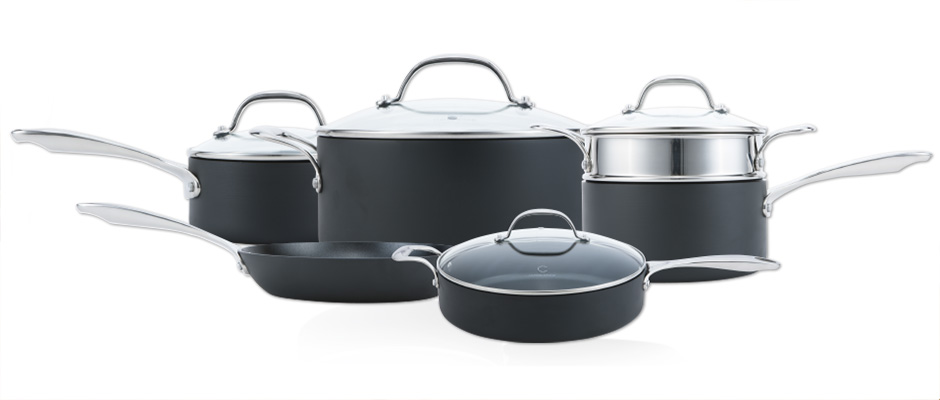 Hardstuff Non-Stick Cookware
One of the reasons I love these hard-anodized aluminum pots and pans so much is because they're much harder and sturdier than a lot of others on the market. I believe that when you're cooking, you need to be a bit rough with your pots and pans. You can do that with mine because they're so, so tough.
This non-stick cookware is great for cooking delicate foods, which are prone to sticking, such as fish or eggs, and it also makes cleaning a speedy affair. I'm appreciating these pots and pans now more than ever since having my gorgeous boy, Hudson. Less time cleaning means more time messing about with him and Linds. You can also whack these pots and pans in the oven, just remember the handles will be hot when you pull them out. 
Product Features
Benefits
My cookware can be used on all cooktops including induction and are also oven safe to 450˚F / 230˚C.
You can whip up so many tasty dishes with this set from stir-fries, omelettes, steaks, fish to slow cooked chicken cacciatores, the list is never-ending so be creative and have fun with them! 
Care & Usage
Do not clean with abrasive cloths or cleaners
What's Included
1.5qt / 1.4l Saucepan with lid
3.5qt / 3.3l Saucepan with lid
5qt / 4.7l Stockpot with lid
12" /30cm Sauté pan with lid
Stand Out Features
Hard anodized body with stainless steel handles
Tempered glass lids for convenient see through cooking
PFOA-free Quantanium non-stick coating for lasting release and easy clean-up
Heavy gauge aluminum for even heating
Ergonomically designed stainless steel handle for cool, comfortable cooking