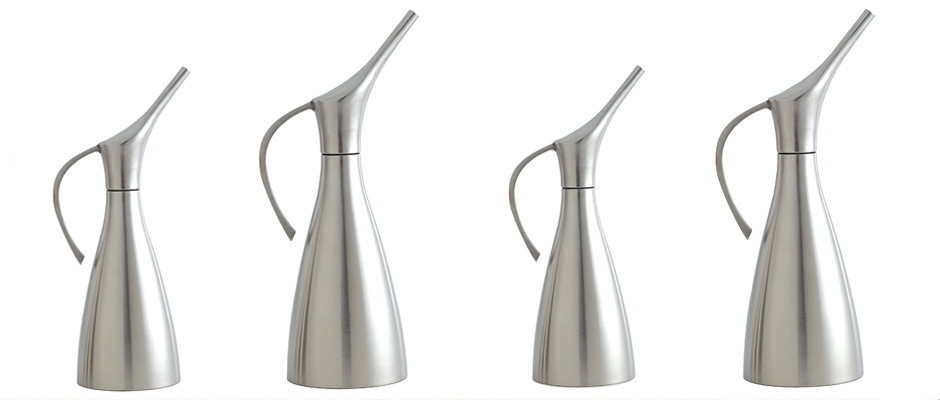 Go With The Flow Oil Can
Stainless steel is a safe, nonreactive metal that provides the perfect dark home for your oil. Olive oil oxidizes when it is exposed to light so you want to transfer it from the bottle and keep it in stainless steel whenever you can. The beautiful thing about my oil can is it doesn't drip, like a lot of other cans you'll find on the market, and this is thanks to the way we've created the nozzle. The nozzle is designed as a peak so you can carefully stream the oil and create a really slow pour. This is not only a healthy way to cook but you have total control - just think, no more soggy salads!
Product Features
Benefits
The oil can is suitable for all sorts of oils, from vegetable oil to the delicious extra virgin olive oil. To be honest, I've been known to put vinegar into one can and oil in the other and I use these to dress dishes – it's my own little oil and vinegar set. I've even put raspberry sauce into a can and poured it over ice cream for a dinner party. It's really too beautiful a can to hide and there's a bunch of uses for it!
Care & Usage
Clean gently with a damp cloth
Do not clean with abrasive cloths or cleaners
What's Included
Stainless steel oil can and screw on nozzle
Available in 2 sizes, 16fl oz and 24fl oz (500ml and 750ml)
Available in 2 finishes, polished and satin finish
Stand Out Features
Solid stainless steel construction
Sleek looking curved handle for easy grip allowing controlled pouring
Wide opening screw top lid makes the oil can easy to refill and easy to clean
Elongated narrow spout allows a thin steady stream of oil for a perfect pour
Elegant design looks great in any kitchen