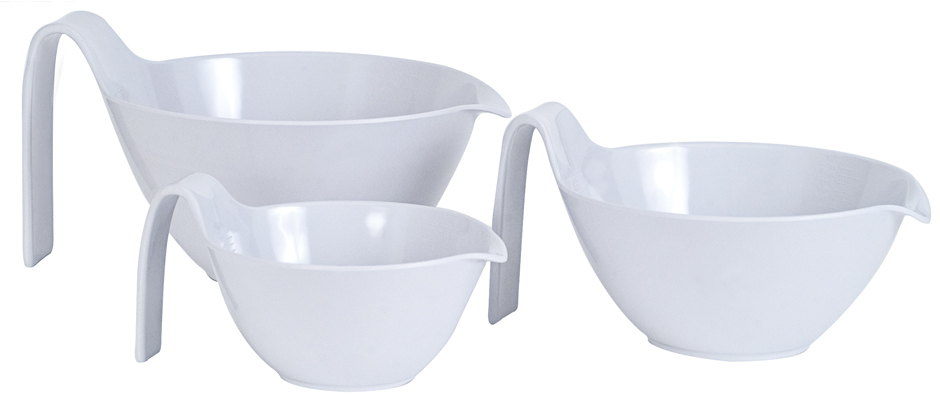 Hold Me Mixing Bowls – Melamine
One of the most important features of a mixing bowl is to be able to grip it and keep it sturdy during use. The only real way to get a grip on a standard bowl is to put your entire arm around it and more or less give it a hug. I've decided to make whisking, mixing and stirring easier for you by adding a handle to my bowl set, not to mention a handy pouring spout. It is super easy to pour from the bowls as you can hold the handle with just one hand and steady the receiving container with your spare hand.
There also won't be any bouncing or sliding when your bowl is on the bench because we've applied a non-slip base to the bottom of the bowl. And one more thing… quarts, cups and litre measurements are imprinted on the inside of the bowls so you can measure then mix your ingredients all in the one place. How about that? 
Product Features
Benefits
Mixing and measuring all sorts of ingredients. I've even received feedback from people who serve up salads in their bowls because they think they look pretty great as a centerpiece on the table.
What's Included
Bowls available in 3 sizes and also a boxed set of 3
Available in 5 different color options Yellow, Orange, Red, Black & White
Bowls made from 100% melamine
Stand Out Features
Features handle and pouring spout for maximum control
Easy to use measure markings in each bowl, in quarts, cups and litres
Stackable for convenient storage