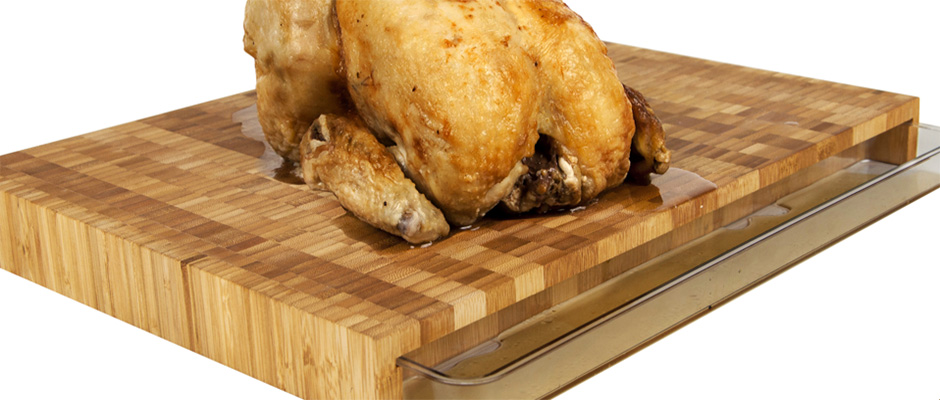 Juicy Carving Board
I'm going to let you in on a secret – the secret to the most flavoursome jus you've ever tasted. When you carve a roast, the jus that comes out of the meat has the very best flavour. I've designed this Juicy Carving Board at a 2˚ angle so as you carve, the juices flow down to collect in the clever removable tray - this is the juice that professional chefs use to make super tasty sauces!
Product Features
Benefits
The inclined board and tray prevent juices from spilling all over your bench top
The board also doubles as a stunning everyday cutting board.
Carve up your favourite poultry and meat on this board and let the tray catch all those delicious juices for you.
Care & Usage
Before use, wipe with damp cloth and allow to dry
After use, scrub with warm, soapy, soft scourer and dry immediately - do not use metal scourer
Do not wash board in the dishwasher, soak, or submerge in water as this will damage the natural properties of the bamboo
Tritan™ plastic juice tray is dishwasher safe
To maintain natural bamboo properties, after cleaning, wipe over sparingly with natural mineral oil
Remember bamboo is flammable and should never be placed in oven or near cook top
Store in a clean, dry area allowing air to circulate around the board
What's Included
Includes eco sustainable bamboo carving board and 1 x Tritan™ plastic BPA-free tray
18" x 15" (465mm x 395mm) including tray
Stand Out Features
Board is at a 2˚ angle so that juices flow and are caught in removable Tritan™ plastic tray
Use to present and carve roast at the table
Made from eco sustainable bamboo - will not harm knife edge
Doubles as a day-to-day cutting board