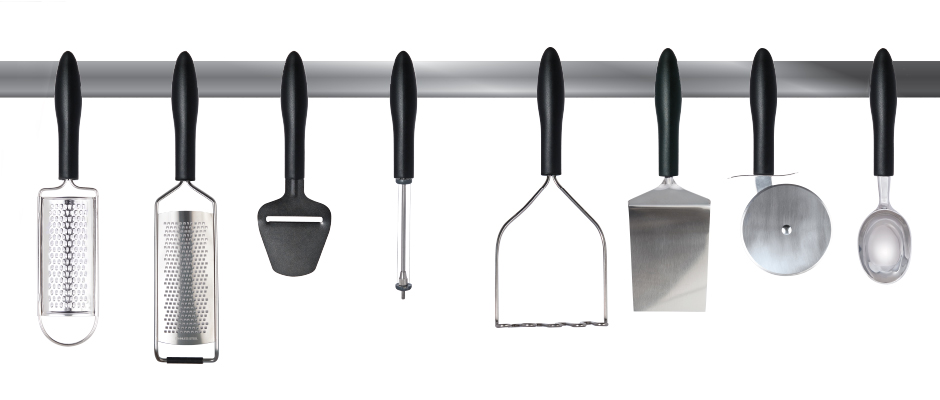 Magnetic Attraction Stand
I developed this stand out of fear of that horrible drawer full of miscellaneous utensils that everybody's scared to open. You know the one… It's usually full of 55 utensils that are bent out of shape from banging them because the drawer doesn't close properly. There are usually a few sharp bits and pieces threatening to stab you every time you reach in to retrieve a utensil. This got me thinking that the best place for utensils is right where you need them.  They should be by your cooktop or hanging from a stand within arms reach of your stove. The magnetization between the stand and my utensils makes it super easy to grab the tools you need, and then pop them back into place with ease. It's so much easier than fumbling around in that drawer or playing around with fiddly hooks. 
I've created 28 Magnetic Attraction Utensils to live with the stand or on any magnetically compatible surfaces in your kitchen. Utensils not included with stand purchase. 
Product Features
Benefits
Place the Magnetic Attraction Stand with utensils attached in an easy to see and easy to reach spot to make cooking a breeze!
Care & Usage
Clean gently with a damp cloth
What's Included
Magnetic Attraction Stand made of ABS plastic for long life durability
Stand Out Features
Slim vertical stature: Allows utensils to be hung vertically saving space in the kitchen
Heavy EVA base:  Provides stability to hold utensils and gadgets without tipping over
Large circumference:  Provides enough space to hold up to 5 utensils freeing up drawer space in the kitchen
18/10 stainless steel ring:  Allows Magnetic Attraction utensils and gadgets to be displayed on the counter top for easy access