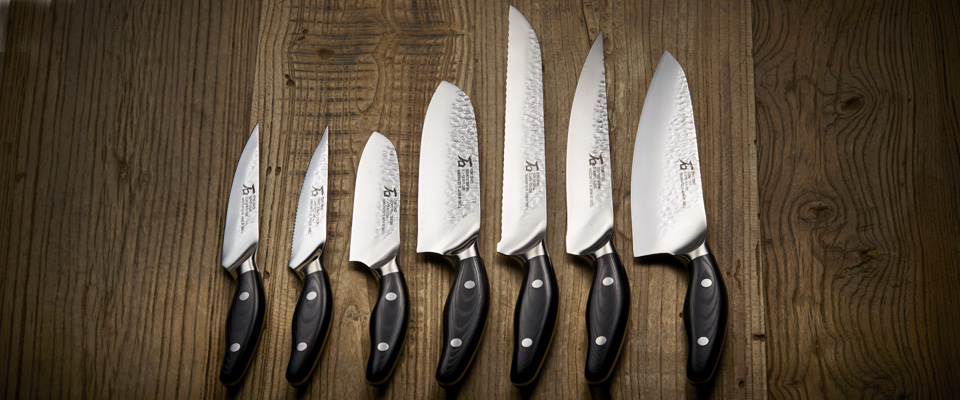 Stone Series Knives
A sharp, high quality knife is hands down the most important tool you 
can have in the kitchen. In order to create the very best set of knives for 
both top chefs and home cooks, I've travelled to different parts of the 
world renowned for their knife making skills - Japan being one of them of 
course, where kitchen knives take inspiration from the traditional samurai 
sword.
I was lucky enough to meet one of the 18 samurai sword makers 
in the world today and it was there that I knew I had to combine Japan's 
legendary know-how with my unique designs and culinary expertise. The 
bolster is designed to guide your thumb and forefinger to either side of 
the blade to achieve optimum control and grip so you can steer the knife 
in the direction you need with confidence and ease. Made from strong and 
durable layered steel with a super sharp cutting edge, they're set to become 
your trusted wingman in the kitchen. Bon Appetit!
Product Features
Benefits
The blade is made from 3-layer steel making it hard (HRC 61 on the Rockwell scale) and corrosion resistant.
The VG10 core, which also makes the cutting edge, is synonymous with sharpness, edge retention and long-lasting performance.
The handle is custom-designed to encourage the perfect pinch grip for better control and results.
Care & Usage
The knives should only be hand washed with luke warm water and a very mild soap.
The knives should never be put in the dishwasher.
The harshness and chemicals in a dishwashing cycle can be very detrimental to the longevity of your knives.
Do not leave your knives submerged in water.
Use a soft dishtowel to dry your knives immediately after hand washing.
Do 
not leave them to air dry.
Once the knives are completely dry, store them in their original box or in a block or a knife case.
Do not store your knives in a drawer unsheathed.
Warranty
All Stone Series cutlery carry a limited lifetime warranty, except when stated otherwise.
 Under this warranty, we will replace any product that is defective in its original material or construction.
The Limited Lifetime Warranty is not transferrable and does not cover any damage or breakage due to misuse.
It does not cover any signs of wear, damage or rust.
What's Included
(5) 
12.5cm/5" SMALL SANTOKU
(7) 
13cm/5" SERRATED UTILITY
The Stone Series knives are individually packaged in a gift box and have a care and usage manual with information and instructions on how to use and maintain your knives.
Stand Out Features
The Katana sword wave line and the hammered finish are aesthetically unique and help food to slide easily off the blade.
Custom-designed by Chef Curtis Stone, the Stone Series handle is made 
to fit comfortably in the palm of your hands for better control and more 
comfort.
The outstanding edge of the knives is achieved by combining the best of technology with the knowledge and expertise of the Japanese craftsmen. Their skills have been honed by traditional Japanese sword making techniques, handed down from generation to generation over seven centuries in the capital of swords and knives, Seki, Japan.