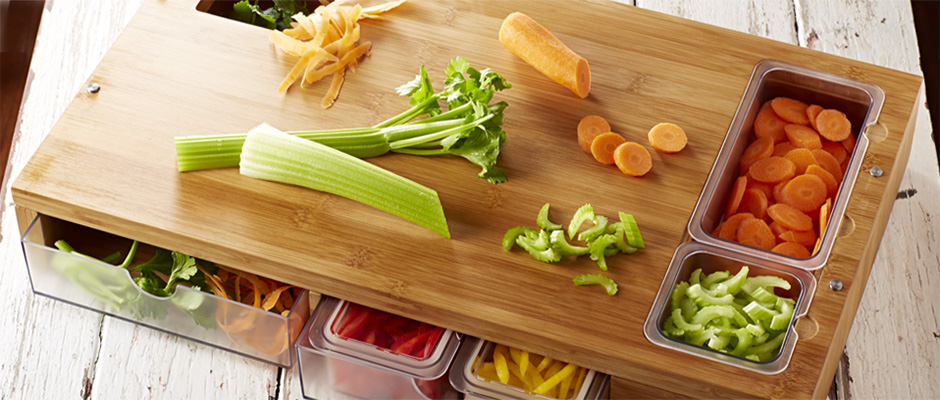 Workbench Cutting Board
Spending a lot of time in home kitchens generated the idea for the Workbench. I 
looked at people doing their prep and thought to myself, there's got to be an easier 
way!? The Workbench gives you that easier way. 
When you chop, dice or peel, three 
things start to happen when using a regular chopping board.
You create waste, mess
and space becomes limited. This board has both waste and storage compartments 
that save you space and time so that you can get on with it. Working with my board 
means you can be so much more efficient in the kitchen.
Product Features
Benefits
Anytime you ever need to do prep, it can be done on the Workbench Cutting Board. For example, the board really lends itself to prepping a dish such as a stir-fry. When cutting 5 or 6 different vegetables on a normal cutting board, you run out of space and you have to retrieve the bowls from the cupboard, which in turn creates additional cleaning up, plus you need to head to the bin to get rid of waste. Mine is an all-in-one super efficient board that saves you from running around the kitchen like a headless chook!
Care & Usage
Before use, wipe with a damp cloth and allow to dry
After use, scrub with a warm soapy soft scourer and dry immediately,
do not use metal scourer
Store in a clean, dry area allowing air to circulate around the board
Do not wash board in the dishwasher, soak or submerge in water as this willdamage the natural properties of the bamboo
Tritan™ plastic waste disposal drawer, storage drawer and containers are all 
dishwasher safe
To maintain natural bamboo properties, after cleaning, wipe over sparingly with 
natural mineral oil
Remember bamboo is flammable and should never be placed in oven or near cook top
What's Included
Includes eco sustainable bamboo cutting board
4 x square Tritan™ plastic BPA-free fresh lock containers with air-tight silicone
sealed lids
2 x rectangle Tritan™ plastic BPA-free fresh lock containers with air-tight silicone 
sealed lids
Tritan™ plastic BPA-free waste disposal and storage drawers
Stand Out Features
Made from eco sustainable bamboo
22" x 14" (550mm x 350mm)
The bamboo will not harm knife edge
Transfer finely diced ingredients into containers for storage
Transfer waste into built in waste compartment and deal with it once your food is cooking