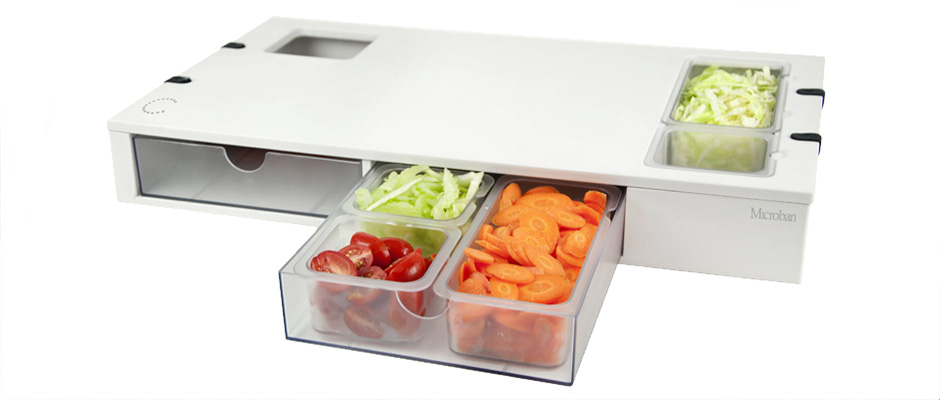 Workbench Polypropylene Board
Spending a lot of time in home kitchens generated the idea for the Workbench Cutting Board. I looked at people doing their prep and thought to myself, there's got to be an easier way!? The Workbench gives you that easier way. When you chop, dice or peel, three things start to happen when using a regular chopping board. You create waste, mess and space becomes limited. This board has both waste and storage compartments that save you space and time so that you can get on with it. Working with my board means you can be so much more efficient in the kitchen.
The polypropylene board is an extension of the bamboo Workbench Cutting Board. Some of us have kitchens that really suit wooden benches and others have something a little more modern looking. I designed this board up to cater for those with more modern kitchens. In addition to aesthetics, some people simply like to cut on wood and some people like to prep on plastic. It's really just a personal choice and I've got something for both preferences!
Product Features
Benefits
Anytime you ever need to do prep, it can be done on the Workbench Cutting Board.
The board really lends itself to prepping a dish such as a stir-fry. When cutting 5 or 6 different vegetables on a normal cutting board, you run out of space and you have to retrieve the bowls from the cupboard, which in turn creates additional cleaning up, plus you need to head to the bin to get rid of waste. 
The Workbench an all-in-one super efficient board that saves you from running around the kitchen like a headless chook!
Care & Usage
Before use, wipe with a damp cloth and allow to dry
Tritan™ fresh lock containers are dishwasher and microwave safe (reheating only)
Board lid is easily removable for fast and efficient cleaning and is dishwasher safe
Waste disposal and storage drawers are dishwasher safe
What's Included
Cutting board infused with Microban® antimicrobial protection
26" x 14" (670mm x 350mm)
4 x square Tritan™ plastic BPA-free fresh lock containers with air-tight silicone sealed lids
2 x rectangle Tritan™ plastic BPA-free fresh lock containers with air-tight silicone sealed lids
Tritan™ plastic BPA-free waste disposal and storage drawers
Stand Out Features
This cutting board has built-in Microban® antibacterial protection that helps keep your cutting board cleaner between uses
The Microban antibacterial protection works continuously to help inhibit the growth of common household bacteria that can cause unpleasant stains and odours
Scrape ingredients into containers ready for cooking or storage
Dispose of scraps easily and hygienically with waste disposal drawer
Containers store neatly underneath the board when not in use
Board surface will not harm knife-edge