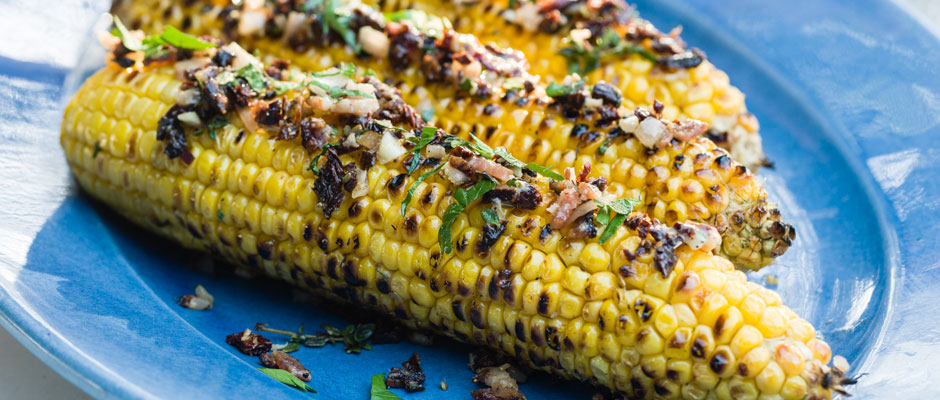 Grilled Corn with Sundried Tomato-Bacon Butter
Ingredients
2 slices applewood-smoked bacon
1 stick (4 ounces) salted butter, softened
3 sundried tomatoes, finely chopped
1 shallot, finely chopped
1 tablespoon finely chopped flat leaf parsley
1 garlic clove, finely chopped
1 teaspoon finely chopped fresh thyme
1 teaspoon fresh lemon juice
1/2 teaspoon dried red chile flakes
Sea salt and freshly ground black pepper
Directions
Make-Ahead:
The sundried tomato-bacon butter can be made up to 2 days ahead, covered and refrigerated. Bring the butter mixture to room temperature before using.
To make the tomato-bacon butter:
Prepare the barbecue for medium heat.
Grill the bacon until it is golden brown and crisp, about 3 minutes per side. Transfer the bacon to a plate lined with paper towels to drain excess oil. Finely chop the bacon
In a medium bowl, stir the softened butter, sundried tomatoes, shallot, parsley, garlic, oregano, thyme, lemon juice, chile flakes, and bacon to blend. Season to taste with salt and black pepper.
Meanwhile, to cook the corn:
Pull off the husks from the corn cobs and remove the corn silk. Drizzle the oil over the corn to coat lightly.
Place the corn on the grill. Cover and cook, turning occasionally, until the corn is soft and juicy and lightly charred, about 15 minutes. Transfer the corn to a platter.
Spread the softened butter mixture all over the hot grilled corn immediately as it comes off the barbecue.