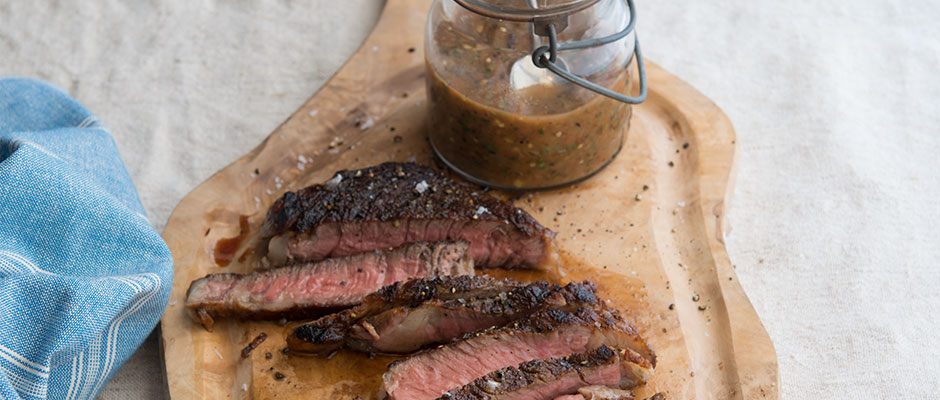 Barbecued Rib-Eye Steak with Mouth-on-Fire Salsa
After a long week at work, there's nothing quite like the feeling of grilling up a steak while sipping on a cold one and knowing that I have two free days ahead. Throw some red bell peppers and onions on the grill to serve alongside the steaks. I buy big, thick steaks to achieve that juicy, rosy medium-rare doneness, but if you don't have a Fred Flintstone appetite, the leftovers make killer steak sangas.
Ingredients
4 boneless rib-eye steaks (about 12 ounces each and 1 inch thick)
Kosher salt and freshly ground black pepper 
3 cups hickory wood chips, soaked in cold water for 1 hour
Smoker wood chip box or a 13 x 9-inch aluminum foil pan (if using a gas grill)
Directions
Let the steaks stand at room temperature while you prepare a grill for medium-high heat: For a gas grill, spread the drained wood chips in the smoker box and close it; alternatively, spread the wood chips in the foil pan. Place the smoke box or foil pan on a lit burner. For a charcoal grill, sprinkle the drained wood chips over the hot coals.
Coat the steaks with the oil and season with salt and pepper. When you see the wood chips beginning to smoke, set the steaks on the grill grate and grill them for about 6 minutes per side, or until the meat feels only slightly resilient when pressed with a fingertip, for medium- rare. Transfer the steaks to a carving board and let rest, uncovered, for about 5 minutes.
Serve the steaks with the salsa.