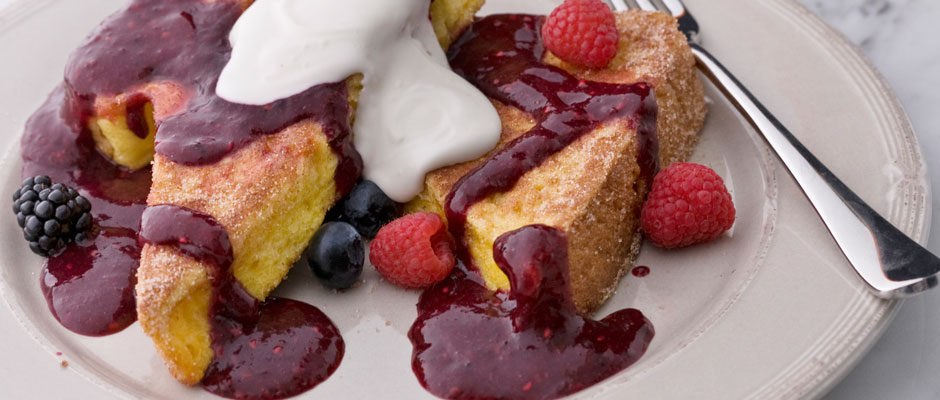 Cinnamon French Toast with Red Berry Sauce
The ultimate weekend or school holiday's treat! Kids can help with every step from flipping the brioche in the gooey egg mix to mixing the cinnamon and sugar together. Use up day-old brioche as it holds its shape and crusty texture better than super fresh bread. 
Ingredients
One 6-ounce package fresh blueberries
One 6-ounce package fresh raspberries
One 4.4-ounce package fresh blackberries
Four 1/2-inch-thick slices brioche bread, halved diagonally
2 teaspoons ground cinnamon 
Directions
Make-Ahead:
The berry sauce can be made 1 day ahead, covered and refrigerated. Rewarm 
the sauce, covered, over medium-low heat before serving.
To prepare the red berry sauce:
Combine all the berries and sugar in a blender and puree until smooth. Strain the berry 
puree through a fine sieve, discarding the seeds, and into a small saucepan. 
Place the saucepan over medium-low heat and simmer for 2 minutes, stirring frequently. 
Remove from the heat and keep warm while preparing the French toast.
To prepare the French toast:
Using a fork, beat the eggs in a 13x9 baking dish to blend. Place the slices of brioche in 
the eggs and let stand for 5 minutes, or until the eggs are absorbed, turning the brioche 
slices once.
Melt the butter on a heavy large griddle pan over medium heat. Add the brioche slices to the hot pan and cook for about 2 minutes per side, or until golden brown on the outside and heated through. 
Meanwhile, stir the sugar and cinnamon on a large plate; set aside. Immediately place 
the hot French toast in the cinnamon-sugar and turn to coat completely. 
Divide the French toast among 4 serving plates. Top with a dollop of crème fraîche. 
Spoon the berry puree over the French toast. 
Scatter the fresh berries over and serve 
immediately.
Other recipes you might like