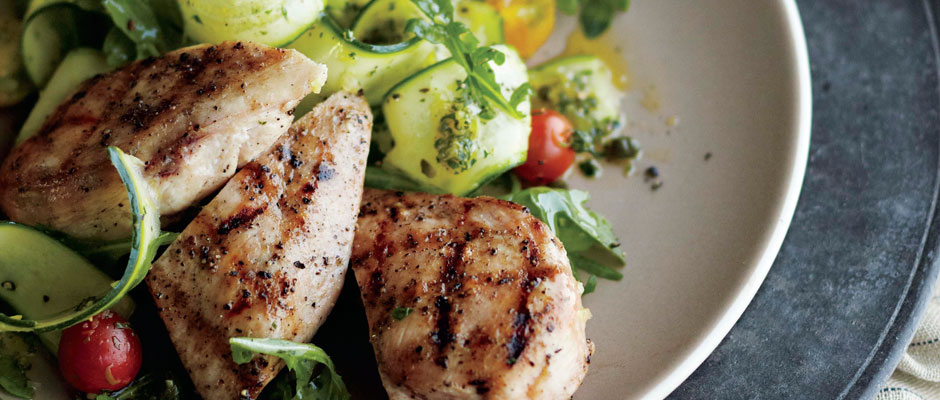 Grilled Chicken with Arugula and Zucchini Salad with Lemon-Caper Vinaigrette
A main-course salad brimming with lots of vegetables and lean meat is one of my favorite ways 
to put a healthy meal on the dinner table. This one is zesty, with arugula and pepperoncini 
(pickled Italian peppers) in the citrusy vinaigrette. The zucchini ribbons, which look like wide 
pappardelle pasta, have an appetizing, fresh texture and look beautiful on the plate. When 
weather permits, cook the chicken breasts on an outdoor grill.
Ingredients
2 tablespoons finely chopped shallots
Finely grated zest of 1 lemon
3 tablespoons fresh lemon juice
1 tablespoon coarsely chopped drained nonpareil capers
1 tablespoon finely chopped pepperoncini
1 tablespoon finely chopped fresh flat-leaf parsley
2 teaspoons champagne vinegar or white wine vinegar
1/4 cup extra-virgin olive oil
Kosher salt and freshly ground black pepper
4 skinless, boneless chicken breast halves (about 6 ounces each)
Kosher salt and freshly ground black pepper
 5 ounces baby arugula (about 8 cups not packed)
1 cup halved cherry tomatoes
Kosher salt and freshly ground black pepper
Directions
Make-Ahead:
The vinaigrette can be made up to 8 hours ahead, covered and refrigerated. Let 
the vinaigrette stand at room temperature for 15 minutes and rewhisk before using.
In a medium bowl, whisk the shallots, lemon zest, lemon juice, capers, pepperoncini, parsley, and vinegar together. Gradually whisk in the olive oil. Season to taste with salt and pepper.
Heat a grill pan over medium-high heat. Coat the chicken with the olive oil and season with salt and pepper. Grill the chicken for about 4 minutes per side, or until it is seared with grill marks and shows no sign of pink when pierced in the thickest part with the tip of a small sharp knife. Transfer to a cutting board.
In a large bowl, combine the arugula and tomatoes. Trim the ends of the zucchini. One at a time, lay the zucchini flat on a work surface and, using a vegetable peeler and working from the stem end to the blossom end, shave off long, thin ribbons until you reach the seedy center. Turn the zucchini around and repeat on the second side, then repeat on the third and fourth sides. Add the ribbons to the bowl and discard the seedy centers of the zucchini.
Using your hands to avoid breaking the ribbons, gently toss the salad with enough vinaigrette to coat. Season with salt and pepper.
Cut each chicken breast crosswise into thirds. Transfer a cut chicken breast to each dinner plate and heap some of the salad alongside. Drizzle the chicken and salad with the remaining vinaigrette and serve immediately.